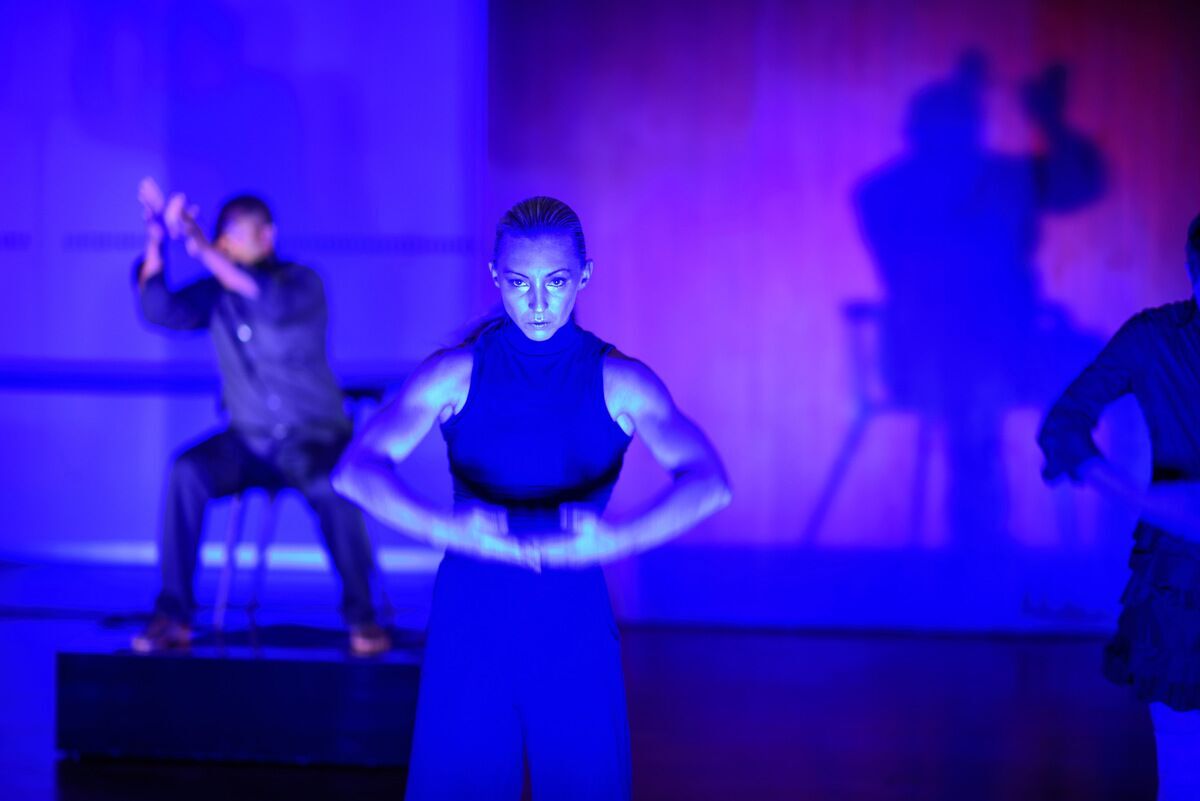 For this version of NE PLUS ULTRA I have interviewed some of our dancers. We have been so privileged to be able to work with extraordinary performers during these last 5 1/2 years and six of them are featured in this interview: Jo Blake, Tara McArthur, Katherine Lawrence, Adrian Fry, Sydney Petitt and Liz Ivkovich.
As a choreographer, I kind of fall in love with my dancers because they carry, inhabit and transform my work in ways that were intended and in ways that I never anticipated. The dialogue and trust that is generated in the creative process is uniquely intimate and personal and the dancers who I keep returning to are the ones who wear my vocabulary in their bodies. A process that allows me to not speak and to do and present physical tasks that are innately understood… is rich and rewarding. When we took "Exodus" to Denmark, my family came to watch the show both in Copenhagen and in Odense and they mentioned the fact that Tara's interpretation of the choreography was like watching me but from a perspective that was uniquely different, thereby adding another dimension to the work and I think that sums up what I seek in a dancer, someone who understands, inhabits and transforms the work. And all of these dancers featured in this article alongside Kate, Brad, Jenn, Yumelia, TJ, Ted and Brian have that indefinable quality that makes them stand out as - artists.
Please enjoy this interview!
Charlotte Boye-Christensen

Tell us a little bit about your background; when did you know that you wanted to become a dancer and why?
Tara: After hitting my head on the coffee table as a young child from dancing around the living room to the movie Dirty Dancing, my mom enrolled me in jazz classes. I did the usual recitals and even competitions. I loved performing and taking class, and it gave me a sense of community and belonging throughout my awkward and otherwise lonely teens years. I was also part of a pretty rigorous dance program in high school which taught me a lot of discipline, but there wasn't much exposure to how people moved forward in their lives with dance. I entered university as a dance major without much sense of where it would take me, and at first had somewhat of an adjustment period being introduced to modern dance for the first time. It wasn't until I did a study abroad program one semester in Australia, and found myself in tears watching the Bill T. Jones Dance Company. I knew in that moment that it was a necessity for me to be a dancer. That I wanted to move like that and be in a company of that caliber. I came back to my university with new direction and fervor for pursuing contemporary dance. For me, this field calls upon an intuitive, somatic intelligence, which I find really exciting, and is generally lacking in our world. It has given me a sense of power in times when I didn't feel that way otherwise. I think when I'm performing it is among the few times in my life when I am truly and purely present.
Jo: In high school, Joe was performing a floor routine for the birds, fawns, and mice friends that would come out of the woods to observe. Little did he know that the local high school theater teacher was on the other side of the ravine watching him tumble to "Phantom of the Opera". (The nosy teacher was with her daughter attending a Girl Scouts event.) The following day, the teacher asked Joe (he now goes by "jo") if he would audition for "Pippin" because they needed a gymnast. It is then that he learned choreography . . . and it is then that his life changed FOREVER (cue the laughter of Count von Count of "Sesame Street").
Joe would later audition for Pom Pons, another name for dance team, and become a team member of the all-female squad.
Time goes by . . . he trained in a competition studio for a bit (never competed), attended his first modern and ballet dance classes at Cleo Parker Robinson Dance (first stage dance performance), moved to Germany (taught jazz in a tiny studio to Paula Abdul "Vibeology" on a record player), accepted a scholarship to the University of Wyoming (best little town in the West), transferred to the University of Utah (met a woman by the name of Joan Woodbury, who would later become his boss), and auditioned for a company by the name of Ririe-Woodbury Dance where he met, danced for, and became friends with Charlotte Boye-Christensen (CBC).
Liz: I am always reconsidering where dance lives in my life. I started dancing because a friend was in ballet class. I stopped dancing after high school because I felt that dance was "too bougie" as I was becoming aware of the real issues facing the globe. I became a dancer again in my 20's when I came to understand that dance and social change are inextricable. Today, I think a lot about how dance informs the way that I approach my work as a development professional.
Sydney: I am originally from Utah where I grew up training in all genres of dance. My mother put me in dance as a child and I became serious about the art form when I turned my focus to ballet. Although I believe I've always wanted to be a dancer; it wasn't until I decided to pursue a degree in dance that I feel like I made that choice for myself.
Katherine: I grew up in Fairfield, Connecticut with my parents and two younger brothers. When I was four years old, my mom put me in dance classes because I loved to dance around the house. I immediately took to ballet. I was a very shy child socially, but dance provided me with a means to express myself, to shed my shyness. I have been asked before when that pivotal moment was when I knew I wanted to make dance my career, but I never had that moment. I have always had the feeling that I have to dance. It is a part of who I am. The ballet school that I attended when I was young was connected with a small company and so I always new that dance was a career possibility. I guess that I just took it for granted that I would have no problem making it my career.
Adrian: Like many ballet dancers, a holiday visit to the theater for the Nutcracker inspired me to want to be a dancer. At 5 I saw Ballet Omaha's Nutcracker and I was enamored. After that initial viewing I acquired a cassette tape of the Nutcracker suite and played the Russian Trepak track endlessly as I energetically cavorted in the basement of my childhood home. I eventually curated those moves into a succinct dance and performed it to my elementary school during the Spring Talent Show. Dance lessons followed shortly after that performance.
I started taking classes at a local, small town school. By the time I was 13 I was looking for more of a challenge so I started taking classes with the Omaha Theater Ballet (formerly Ballet Omaha). I eventually became an apprentice with the company while still in high school. After I graduated I spent a year in the Professional Division with Pacific Northwest Ballet, then spent four years dancing with the Oregon Ballet Theatre. I just started my 9th season with Ballet West.
Can you tell us a little bit about your creative process - how do you learn new choreography?
Jo: When I learn choreography I stand behind the choreographer and pretend that they know what they are doing. (jk) And, with as little energy as possible, I will experiment with the choreography. (jk) Do I like to dance? No, not really. (jk) Do I want the choreographer to know that I am passionate about dance? Naaaah. (jk) Do I LOVE the creative process in the studio with the choreographer and dancers? HELL YEAH!! I live for the creative process!!
Katherine: I sometimes feel like I have a difficult time picking up choreography quickly because I get stuck on the details. I want to learn new choreography "right" the first time, so I can inhabit the choreographer's movement style and language right from the beginning. Once I learn the basics, I then try to explore the movement and make it a part of me, much like breathing. By the time I am performing a role, I want it to feel as natural as possible. I no longer want to have to think about the role, I want to become it.
Tara: My creative process is a constant evolution, shifting from project to project. When learning new movement I get really curious about the transitions between movements, shapes, or concepts, not only as a way to string it together and solidify it in my mental and physical memory, but also to find my own creative voice within a certain structure. When learning movement from someone else I like to try and imagine what the movement must feel like to them, what it would be like to be in that particular body, and then use that information to inform how I approach the choreography. If I'm asked to generate material, I feel most successful when I am able to fully immerse myself and 'buy into' the world the choreographer is trying to create. Some people work from the fined tuned details out— I tend to start in broad strokes and narrow in on subtleties as I go. I am definitely movement driven as opposed to shape. My instincts are to blur the lines a bit.
Tara in rehearsal.
Adrian: When learning preexisting works, we learn tribally, meaning a person teaches us what they've learned before us. During my whole career we've had technology (DVDs) to learn off of as well, but we've always had a stager in the studio with us guiding the process. I've learned two ballets so far from stagers who have no experience dancing professionally but they are versed in either Laban or Benesh notation which was a fascinating experience. They have the choreography written out in a score and are able to read it like a map.
Sydney: When in a new creation process I try to be as pure of a dancer as possible for the choreographer. I desire to serve their vision. I also aim to move expansively within the realms of the choreography if it calls for it. I find big, full movement to be the most satisfying, so I try and keep that in mind when dancing either classical steps or in a new creation.
I'd say I am a visual learner. When learning phrase work it helps me to see it first before I put it into my body. However I'm learning to approach choreography kinesthetically by trying it on, and allowing my body to process before I over-think.
Liz: I almost have no answer here -- I am embarrassingly bad at learning new movement. I used to learn really quickly (ok, like in high school, but whatever, I'm only 32, so it's recent history) and now it takes me so much mental labor to retain choreography. I absolutely have to do it full out a lot of times / I watch what other dancers are doing in the mirror until it settles into my body.
What are some of the highlights of your career so far?
Jo: First and foremost, performing in NOW-ID's premiere performance, The Wedding, will always be one of my memorable career highlights. Not only was I able to perform one of my favorite works of Charlotte's, but I also attended their wedding prior to the performance. Other highlights in my career include: dancing at the Teatro de La' Ville in Paris; teaching students dance in Germany, France, Italy, Spain, Ecuador, Nepal, and Thailand; developing my skills as a performer, teacher, and company member with Ririe-Woodbury Dance Company for almost a decade; and creating my own work as a collaborator/choreographer.
Photos from "The Wedding"(2013) featuring both Jo and Katherine.
Liz: I am thinking of four recent highlights: Performing in A Tonal Caress with NOW-ID this summer -- a transformative, healing, deeply enriching experience. After several years of fieldwork, publishing a scholarly article about Ananya Dance Theatre's work in the Journal of Environmental Studies & Sciences. I am an adjunct at SLCC where I teach a Dance and Culture course that is both a diversity and a fine arts general education course. We have lots of intense discussions about difference. Recently a student wrote: "This assignment [researching the Bachata] has helped open my eyes about the effects of American immigration policies… it restore[d] the aspect of humanity to undocumented immigrants for me." I just started my a new position as Development Director for Utahpresents, a multidisciplinary presenter who brings diverse performances to the University of Utah and the region. I feel like I'm living the dream right now.
Sydney: Performing with Kidd Pivot under the direction of Crystal Pite at City Center, a Chance to Dance with the BalletBoyz, filming the "The Mistle-Tones" and "A Tonal Caress" with NOW-ID
Photos from NOW-ID's "A Tonal Caress" at Utah Museum of Fine Arts in Salt Lake City, July 2018.
Tara: The moments that stand out thus far in my career are most often when I have been on tour. The excitement of traveling with your close colleagues, sharing works with new audiences and experiencing different performance venues. When I danced with the Ririe-Woodbury Dance Company we went on a 2-month tour through France performing the works of Alwin Nikolais. Although I didn't love wearing unitards, the memories I shared with that group of people will last me a lifetime. Other highlights include performing at the Copenhagen Opera Festival with NOW-ID just after a downpour, and performing as part of a structured improvisation in an old Blacksmith shop with headlamps as our only light source in San Francisco for Hope Mohr Dance.
Katherine: I have been blessed with a long, exciting career. It has included some amazing experiences that I could never have dreamed of when I started dancing professionally twenty years ago. Many of those experiences have included traveling to parts of the world I may not have been able to go to otherwise. I would certainly have to include touring with NOW-ID to Denmark to perform Exodus at the Copenhagen Opera Festival, touring with Ballet West to Cuba to perform Nicolo Fonte's Presto at the 25th International Ballet Festival of Havana and Scotland to perform in an all Antony Tudor program at the Edinburgh Arts Festival (my first program with Ballet West), and touring across China and Taiwan with Ballet Internationale, Indianapolis. My career has also introduced me to some of the most interesting, inspiring, and diverse people I know. Most importantly, I met my husband when we both began our dance careers with Ballet Internationale, Indianapolis, and most of my closest friends are artists who have inspired me throughout my career.
Adrian: The first highlight is that I've been able to live as an artist for the last 13 years. The longer I dance the more I realize how much of a gift it is to be a dancer. It's very extraordinary. Other highlights include dancing with NOW-ID in the Copenhagen Opera Festival in Denmark; Ballet West being one of the first American companies to be invited to the 25th International Ballet Festival in Havana, Cuba; getting promoted to Principal Dancer with Ballet West in 2017; and most recently, performing in George Balanchine's Diamonds with Ballet West was a career highlight.
Photos from NOW-ID's production and tour of "Exodus" to the Copenhagen Opera Festival and the Funen Opera House in Odense, Denmark, August 2016..
Without naming names what was the worst experience you have had as a dancer and what was the best?
Tara: Some of the most challenging experiences I've had as a dancer was when I really doubted myself and felt insecure about how I was dancing or contributing, which therefore put me too much in my head and overly focused on trying to please instead of following my instincts. Anytime there is toxic energy in rehearsals whether it be with the director or between dancers it takes a lot of energy to try and put a barrier up around yourself to as not absorb the negativity. Although sometimes this kind of tension can still produce an interesting result, so sometimes it really just depends. My best experiences have been when I fully believed in the piece I was in, felt interdependent and energetically connected with the other performers on stage. Moments that felt like markers in my development as an artist.
Katherine: One of the worst experiences I have had was dancing for a choreographer who continued to drastically change their choreography every rehearsal up and through the piece's opening night. Even worse, after dress rehearsal my partner and I, who for weeks had been thinking our duet was a light-hearted, smiley affair and had rehearsed it as such, were yelled at and told, "And why are you smiling?! This isn't supposed to be happy!" It was that nightmare situation where on stage and I felt like I had no clue what I was supposed to be doing. The choreographer clearly lacked direction and confidence. Instead of owning up to it, the dancers took the brunt of the blame. It was a highly unrewarding and nerve-wracking experience.
Sydney: In the past I worked for a company that was primarily image based. I started to lose my passion for dance when it became more about how I looked on the exterior, opposed to how I was performing. Our director had a harsh approach that I feel pushed beyond the limits of professionalism. The environment felt toxic and unnecessarily extreme. Generally, any environment where I feel supported as an artist and challenged as a mover is a fulfilling experience for me. However, one of the happiest times in my life was when I had the opportunity to perform all over Germany, Switzerland and Austria. An opportunity to travel and do what I love is something I will almost never turn down.
Adrian: One of my worst experiences as a dancer became the one of the best experiences. I was performing a show of the Nutcracker and I didn't make a lift with my partner. This lift worked in the studio and even on stage the night prior in the dress rehearsal. But we were not coordinated in the performance. Even though this lift worked in the studio, it was still a maneuver that I dreaded: I danced the whole Grande Pas de Deux worrying about the press lifts that happen at the end. After that performance I really changed how I approached my work. It ignited a deeper work ethic in me as I was in the studio everyday with my partner practicing in order to make it permanent. That event was more of a mental hurdle for me than a physical one. It was a shedding of ego and an embrace of my weakness that created a different kind of confidence in myself. Dancing invites me to confront my insecurities daily. My dancing partner claims that it was one of the best things to happen to me because it launched me to a place of mental and physical strength that I wouldn't have discovered otherwise.
Liz: The worst experience was the process of getting my MFA. But the best experiences and relationships grew out of those challenging days, so perhaps it was actually the best experience in disguise?
Jo: Worst: Being trapped in a silver mylar bag (performing a trio where I am unable to see any of my fellow dancers). . .on a bench . . .on a raked stage . . . with the music track skipping. This was during the Edinburgh Festival in Scotland. Positive moment, after the tears and personal freak-out, was being told that it was the best performance we have done thus far.
Best: Returning to NOW-ID after a two-year hiatus (graduate school at the University of Washington). I will always cherish the creative process with CBC, dancing alongside some phenomenal beings (Liz, Sydney, Walter, Karen, Mark, and the men), and re-discovering my passion for dancing. Also, was lovely to create work with fellow artists who have a passion for life, community, and the power of the personal voice (km).
Who are some of the people who have inspired you in your work and why?
Tara: The first choreographer I worked for and my former professor, Keith Johnson, has been a mainstay of inspiration, mentorship and friendship for me in my career. The training I received from him and the aesthetic of his work has influenced and shaped not only my dancing, but the lens with which I view other work from. Another highly influential person has been you Charlotte! Your work has always struck me with its highly articulate and specific movement vocabulary while simultaneously carrying so much velocity and wild abandon. The rigor and physicality inherent in the movement has motivated and pushed me along with just being struck by how prolific you are in creating! In addition I've been inspired by the style and aesthetic of Doug Varone, the intelligent and deeply researched work of Hope Mohr, the epic and sensual work of Pina Bausch, the liquidity and brilliance of Crystal Pite and William Forsythe.

Jo:
CBC — obvious.
Damian Lejat
Crystal Pite
Marina Abramovic
They are all creative powerhouses. They all use their physical voice to make a statement.
Sydney: Crystal Pite -- the energy brought to a room through the creative process/branching out to work with all types of artists. Ohad Naharin -- his inventive nature/explorative movement based off of sensation. Charlotte Boye-Christensen -- collaborative achievements/focus on finding movement vocabulary that supports the intention and voice of the piece.
Katherine: Recently I have found a lot of inspiration from my son. Watching him learn to navigate the world and experience so many firsts has granted me a new perspective in my job as an artist. Dancers spend countless hours in the studio trying to perfect our art so that we can accurately portray a character, a relationship, an idea, or an emotion. But in doing so, we sometimes lose the realness, the rawness of life. He has helped to remind me of this. I have also found inspiration from the vast number of dancers, choreographers, musicians, and artists I have worked with throughout my career. There is always more to explore, new perspectives to take, boundaries that can be pushed further and we all have different ways of approaching those challenges. Observing this in others inspires me in my work.
Liz: Dr. Ananya Chatterjea and the artists of Ananya Dance Theater have taught me so much about social justice, the attention to craft that dance requires, and the power of ensemble.
Choreographer Sara Shelton Mann described dancers as "the shamans of Western society" and that inspires me -- the energy work we do through performance is important in ways that I don't fully know how to articulate.
My friend and choreographer Maya Taylor as built an inspiring freelance career in LA and NOLA in ways that are innovative and cross disciplines. She represents the kind of artist who just gets into the studio and WORKS. I respect that rigor 150%.
Adrian: Underneath a dancer's hard work is more hard work. I'm inspired by my Ballet West colleagues each day. I'm inspired by dancers who work tirelessly and curiously and who love dancing. I'm inspired by my wife, who is also a dancer, and is also a tireless worker in all realms of her life. She is fully dedicated to curating beauty everywhere and that energizes how I work each day.
What is the project that you have always wanted to do?
Jo: I have always wanted to . . . be a resident choreographer for a contemporary modern company. I have always wanted . . . to teach at a university. Now, I want to close my eyes and sleep.
Katherine: It is the one that I haven't thought of yet. For instance, when Charlotte asked me about dancing in NOW-ID's first project The Wedding, it was unlike any project I had been involved with before and was completely off my radar of possibility. But I grew and learned so much as an artist that summer, in ways I could never have anticipated. Those are the types of projects I want to do.
The artists featured in "The Wedding" (2013).
Adrian: I would love to be a part of more dance on film. I think videos are a key way people receive information and art these days. And I love the marriage of different mediums: music, design, production, dance, and film all meeting together. I'd also like to be a part of dance education in some way or another because I think there are a lot of unawakened dance lovers in the world. I think just giving people a few keys with which they can view dance can change their whole experience.
Tara: In my fantasy world I would love to be in a work by Anne Teresa De Keersmaekerr. I would also love to perform in a large modern art museum at some point.
Liz: I have a book that I want to write about dominant aesthetics and subaltern dances in Utah, which I keep thinking of as a PhD dissertation that becomes a book. Maybe the other way around? Eventually, I hope to see Utah become a hub for new work and scholarship in environmental dance and theater. That's a big project that I dream about a lot.
Sydney: Since I can remember, I've been interested in dancing for MOMIX. The inventiveness, physical strength and focus on classical/contemporary techniques the company offers, is something that I am constantly searching for. Each production seems to work with various elements that are really exciting to me; whether it be through the use of props, optical illusions, or really pushing the limits of the physical body.

Looking towards the future – where do you want to be and what do you want to be doing in 25 years?
Jo: In 25 years??? I cannot even think about what I want to do in 5 years. One of my goals, currently, is to live in the moment. And that is what I am doing. I am living, loving, and laughing right NOW. (you see what I did there.).
Sydney: Twenty-five years from now, I'd love to have my own company continuously working towards developing my own voice/vocabulary of movement. It is important for me to remain creative in my work as I identify with the world around me. Collaborating with other artists is something I value, as well as pushing the boundaries of dance as an art form.
On the other hand, I greatly enjoy being involved in academia. In college I remember turning to my mentors and thinking, "this is what I want to be doing." If I can continue to teach while working professionally, that would be ideal. Being a Dean or Director of a Fine Arts Program where I am constantly advocating for the arts, is something on my radar as well.
Katherine: I would love to be working as a ballet master for a ballet company, or promoting dance in some manner. For a long time, dance has enjoyed a tradition of passing down choreography from one generation to the next, while also evolving to reflect the current societal values and trends and to push barriers. When my body can no longer take the vigorous lifestyle of dancing all day every day, I still want to be in the studio, helping the art to continue to move forward.
Adrian: I hope to own properties and businesses with my wife, Jordan. Maybe we'll have a grown child or two. Maybe I'll teach a little bit of ballet on the side. Maybe I'll choreograph a dance piece or two a year. And we'll have a Scottish Terrier.
Tara: In 25 years I want to have a healthy body that can still express itself through movement. I hope to still be performing in some capacity, but being more on the creating/directing side. I also want to own a tiny cabin in the woods.
Liz: Staying fortified!