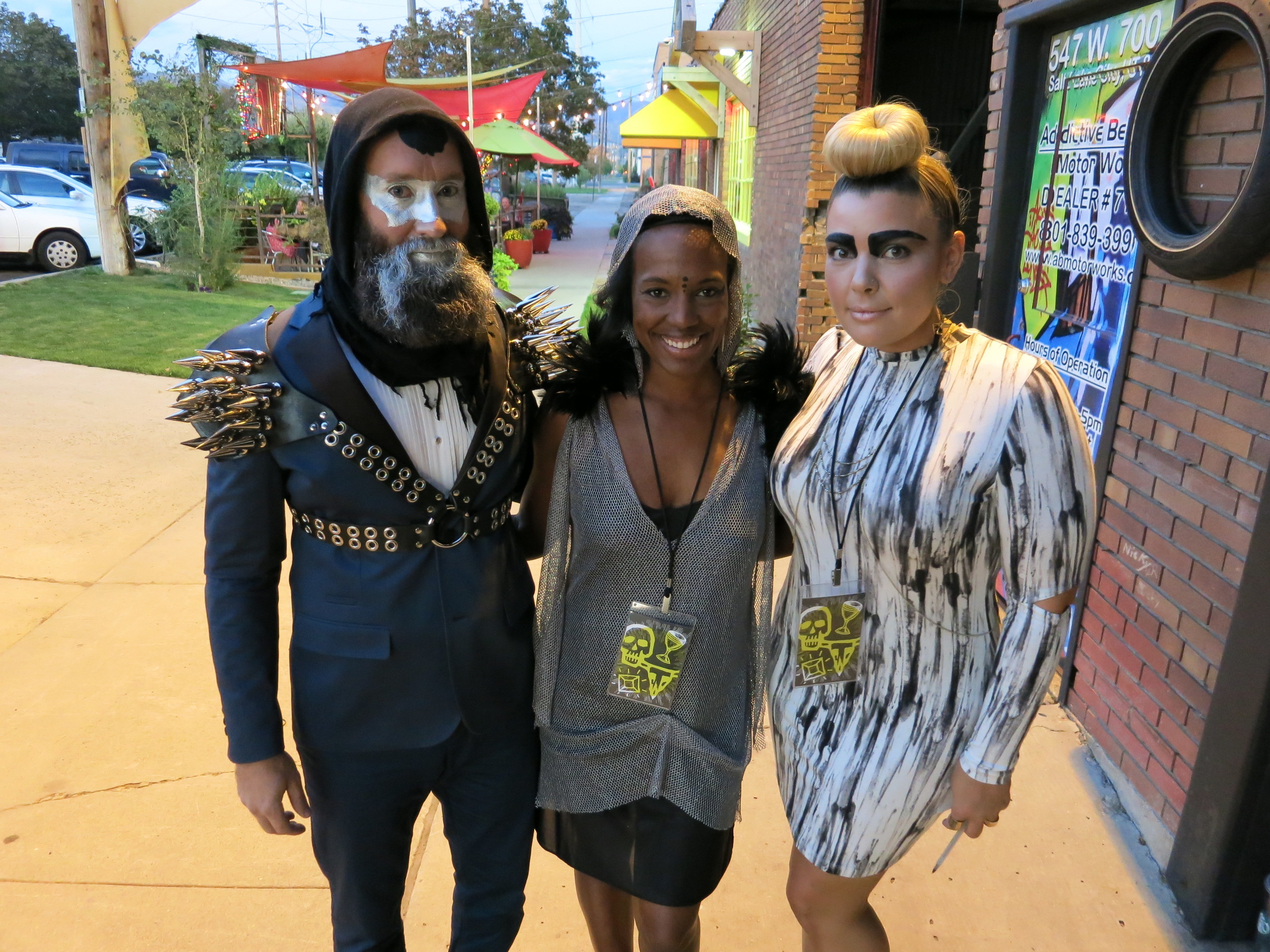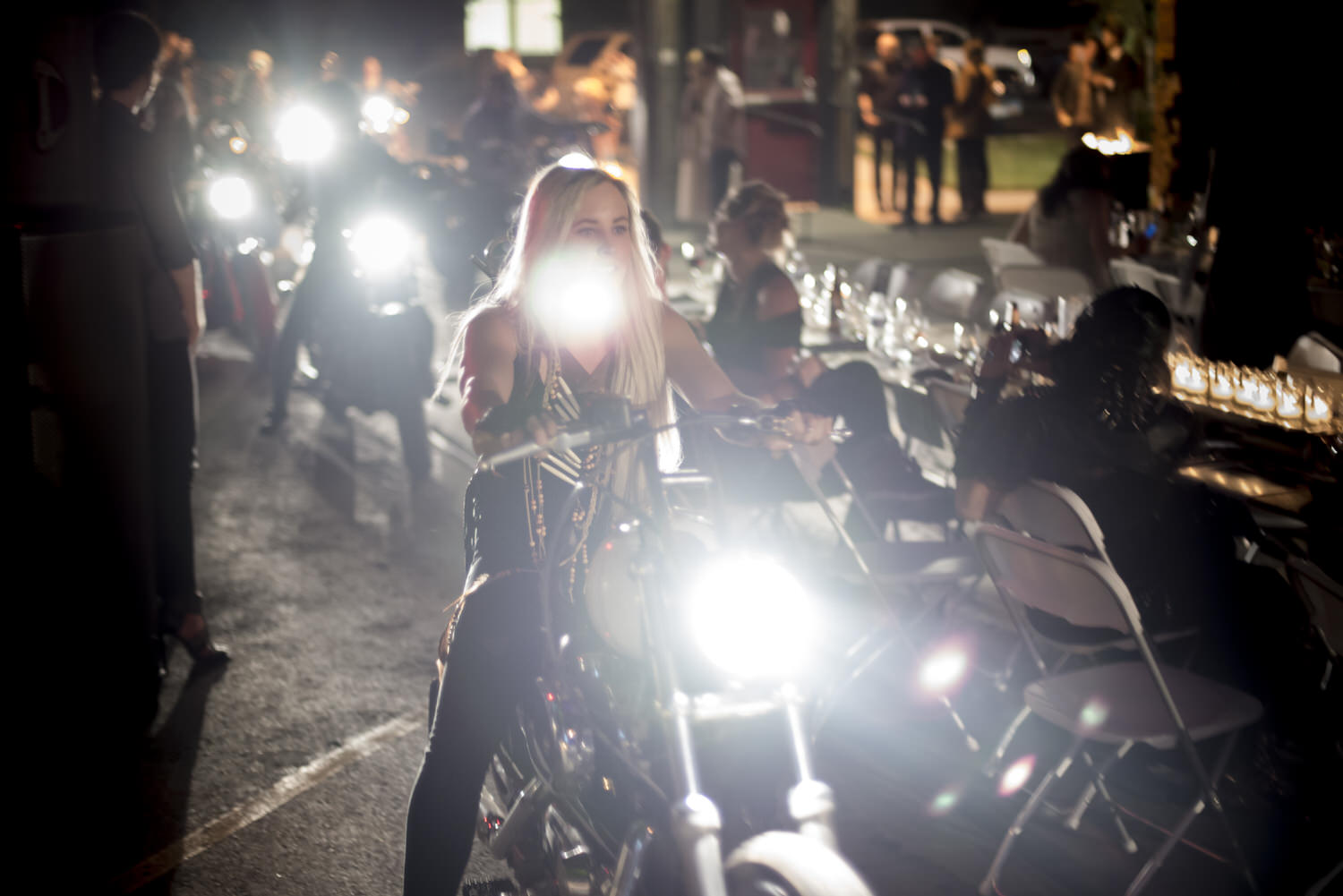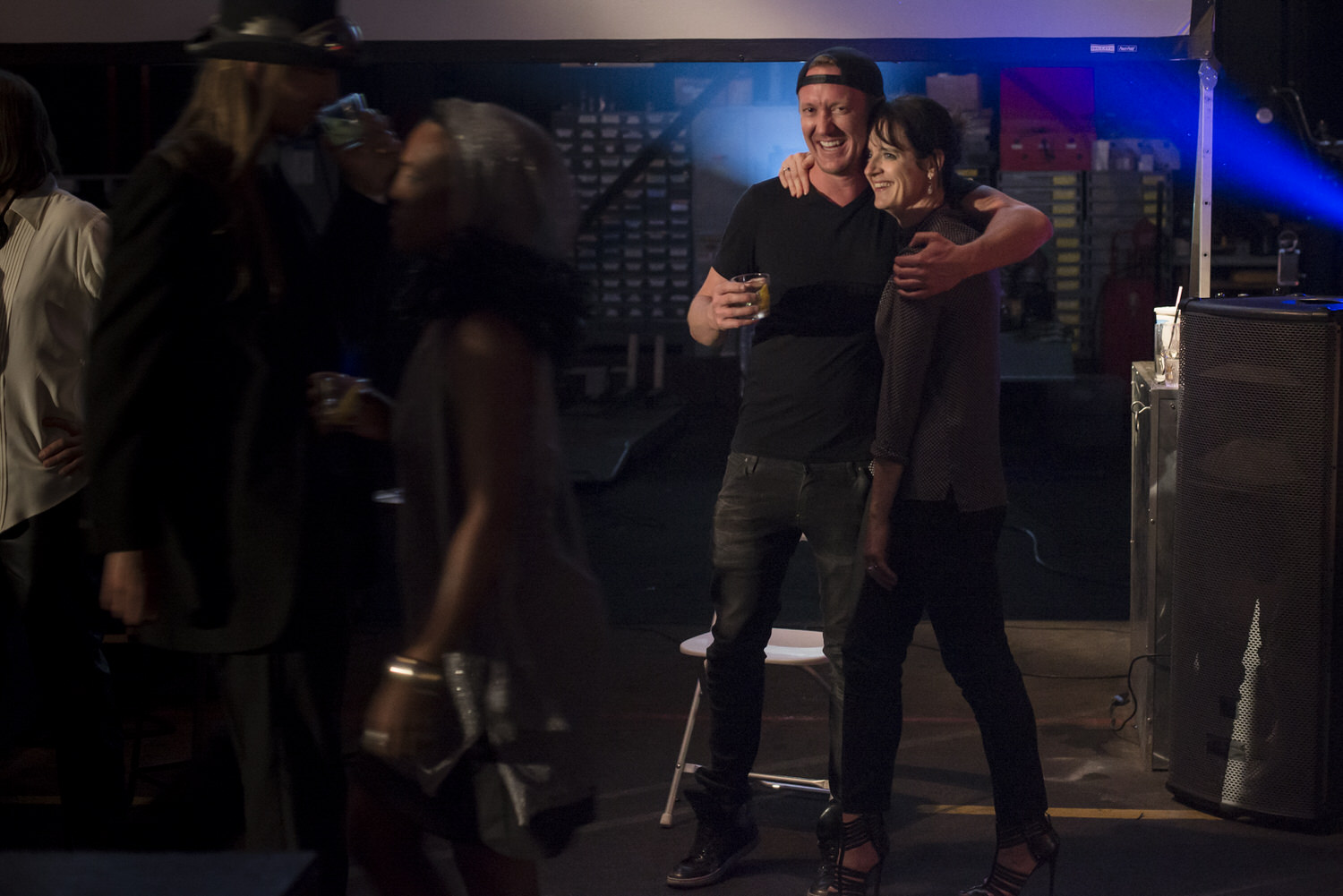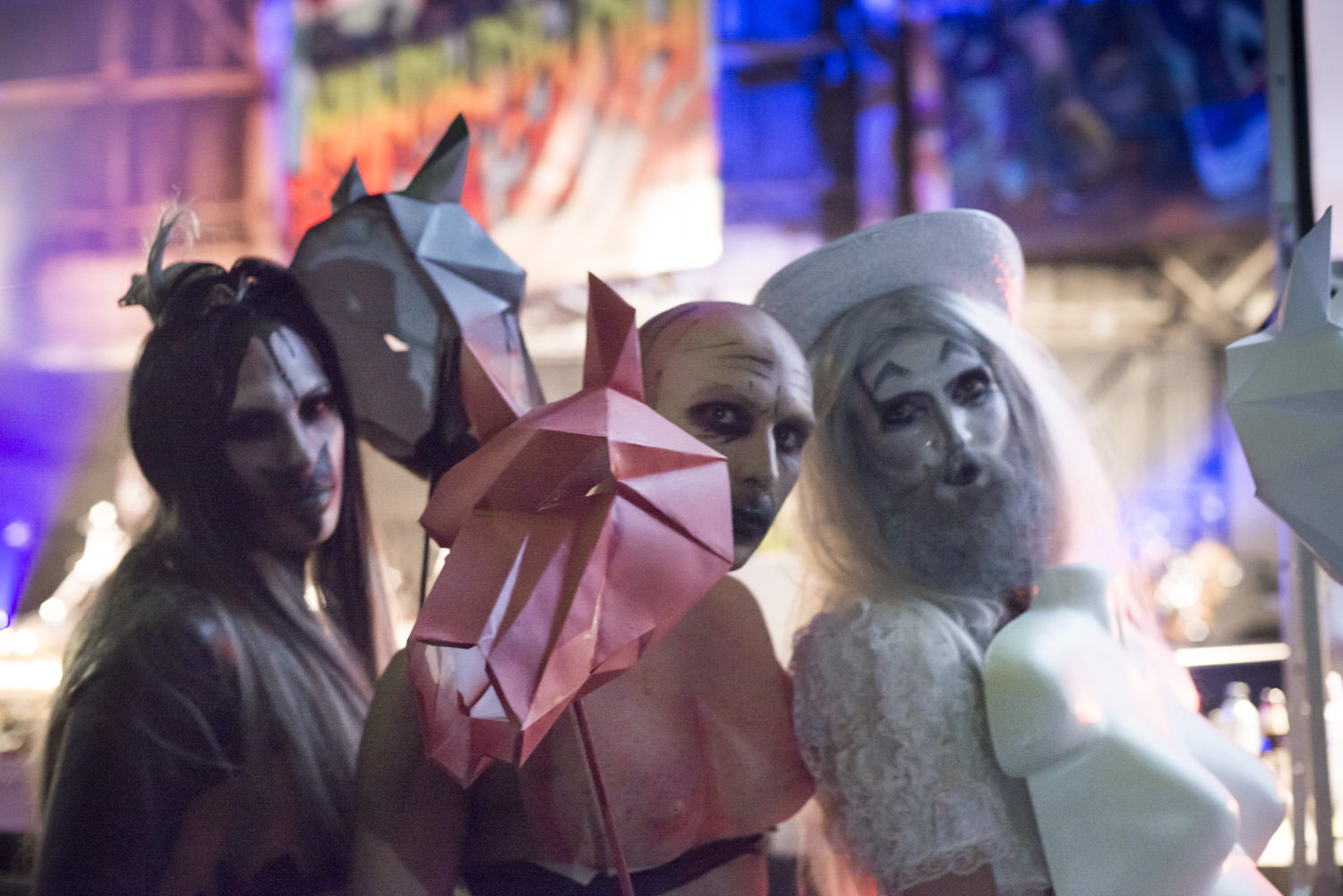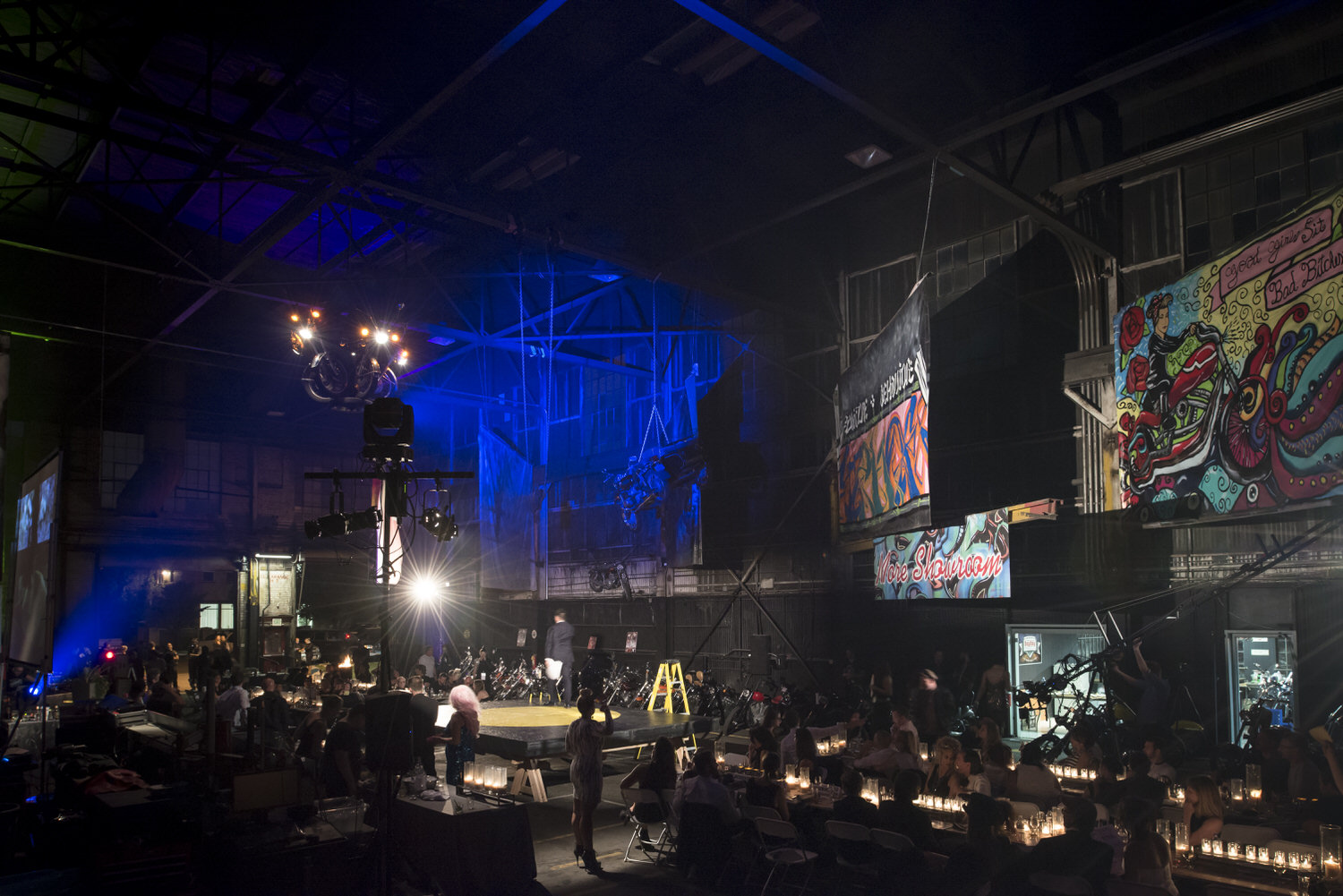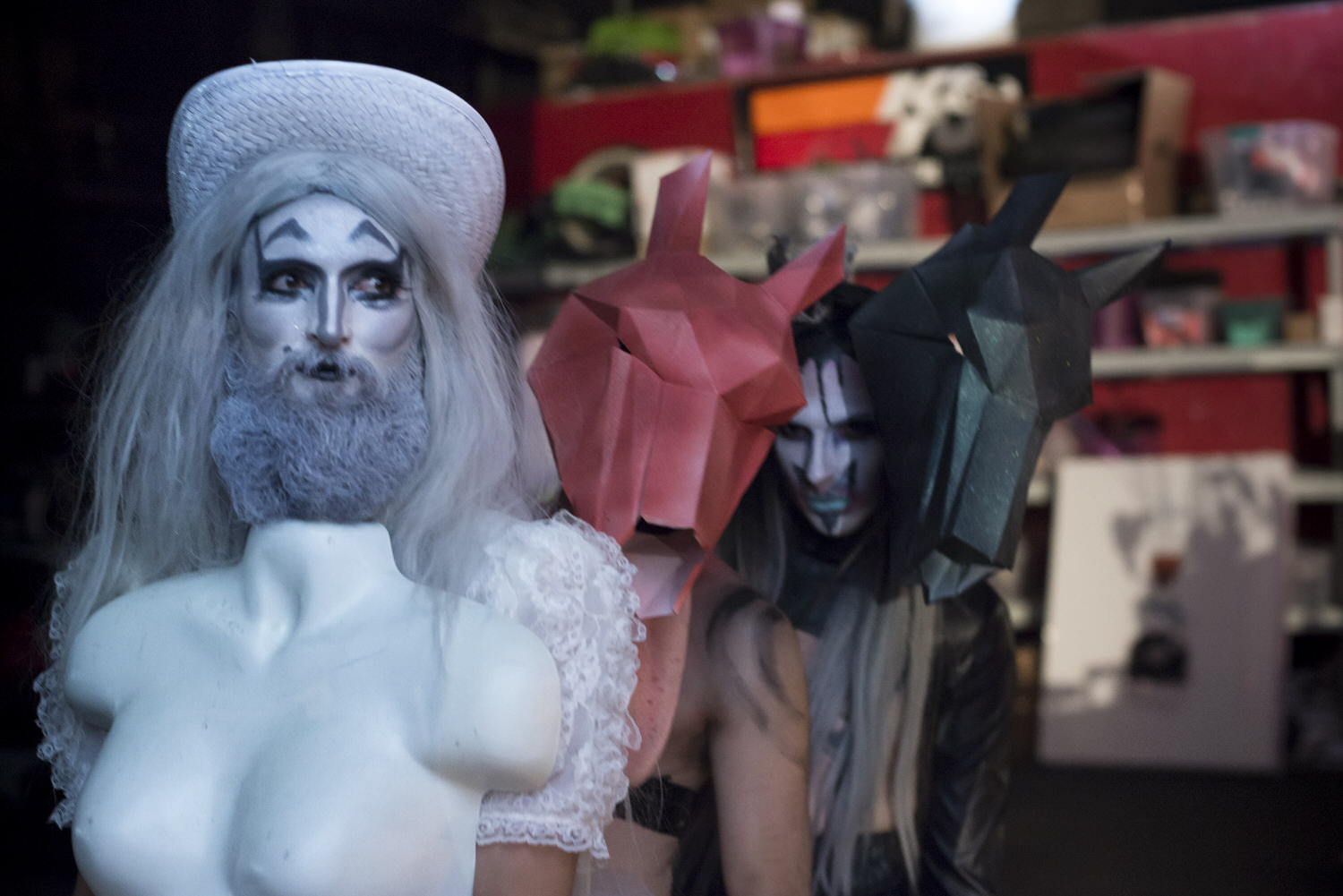 Thank you to everyone who joined us for our first annual gala. The House of Apocalypse is now closed. Photos above courtesy of Jeff Juip, Josh Scheuerman, Marcus MacDonald, Jesse Walker and others in attendance. We'll see you next year!
Short highlight reel (above). Filmed and edited by Leani Lewis.
Buy tickets below, ($100 per... the amount you'd spend on a wild night out)
We couldn't have planned it better if we tried. A Blood Moon will be rising the weekend of our own private apocalypse. You may notice store shelves are being emptied and basement shelves filled? But really: if the end is upon us, would you rather have canned tomatoes or handcrafted cocktails?There will be flaming liquids a plenty... and birds and hugs and oil drum burn-barrels; and accordions and biker gangs; hot rods, a big stage, and, well, a guy playing the saw... with a swing above it, with a performer on it (Sophie Silverstone), and a street preacher/MC below it (Robert Scott Smith). Plus!
FEATURED PERFORMANCES
Witness an otherworldly Bad Kids Collective performance interpreting the 'Four Horsewomyn of the Apocalypse', with bursts of instrumental speed metal from Cornered By Zombies and French classical, pop and disco from Mr. Jesse Walker...
CREEPY HUGS
The apocalypse isn't all death metal and burn barrels. There's also candy, pickles, and a couple of handsome fellers hanging out by that big blue van back there. End of days, you might just enjoy having your personal space coddled by a couple of strangers (who by the end of the evening you may know as Tom Sobieski—of IconoClad fame—and Stan Clawson).
RED MEAT
Enjoy hors d'oeuvres with those cocktails, before chef Robert Angelilli serves us our 'last days' meal (with a non-animal option). This world renowned mushroom hunter's cuisine is to die for.

ATTIRE? APPOCALYPTIC
(anything from tatters to tuxes)
...DRESS FOR DISTRESS!
BEST. AUCTION. EVER.
We're giving you uncommon auction packages in a short and sweet format the night of the Apocalypse. So many fantastic ways to support NOW-ID in these end times!
 
ESCAPE THE APOCALYPSE! – TO Panama
Spend 5 days lounging at Red Frog Beach in a private villa that sleeps 6, with a private pool. Set amid the enchanted Caribbean Archipelago of Bocas del Toro, it's as far away from the inversion as you can possibly get. While you're breathing the clean ocean breezes, also take advantage of top-rated accommodations and soak in the serene natural Panama island landscape. Courtesy of Chris Padilla and Red Frog Beach. (See video)
HOME INVASION – A Design Consultation
Interior designer Andrea Beecher and architect Nathan Webster have never worked together, but are eager to start…in your kitchen. For this one-evening immersive consultation, the two will arrive at your door with flowers, beverages and food, and will consult over a meal they prepare just for you. The design consultation will be focused upon the person, place, or thing that you wish to transform.
SPIRAL JETTY – Land Tour + Extreme Supper Club
Join curator, artist, and Spiral Jetty authority Adam Bateman for a guided trip to the Spiral Jetty. You'll go by way of the ATK rocket garden, and then have plenty of time to discuss Smithson's masterpiece as you make your way to the edge of the Great Salt Lake. Once at the Jetty, in discussion and in silence, learn why Adam has described this as the most important art work in America… right here in our own backyard. The day will be catered with Jetty-inspired cuisine and beverages, designed and executed by your artist/guide.
SPIRAL 'JEDI' – Great Salt Lake Tour by Air
Spend two hours in the air in a four-seat plane with pilot Ben Mosley and partner Kim Fearick. Check out the Jetty – Smithson did find the location from the air, after all. Check out Saltair, Antelope Island, and the Salt Flats. See what else you can find and get some perspective on this otherworldly landscape that is our city's namesake. (Licensed, insured, 99.9% safe)
DATE NIGHT! FOR A YEAR! – 12 Nights of Food and Entertainment
Keep your romance on its toes with a year of monthly dinners at hot local establishments including (so far): Current, Undercurrent, Harbor and Fish, Takashi, Naked Fish, Pago, Fresco, Eva, Stoneground and Private Chef for 2 with Chef Evan Francois. Pair with entertainment at Salt Lake Acting Company, the Utah Symphony, and (of course) NOW-ID among others... plus morning-after coffee's at Publik. Survive the second coming in style with a dame or dude on your arm, and keys to the city in your pocket!
CASCADIA – Portland Weekend Package
Enjoy a weekend at Sam Sampinos and Debra Anderson's Zinc Condominium, located in Portland's vibrant, centrally located Alphabet District. While there will be plenty of time to explore the shops and shenanigans at your doorstep, you'll also have artist/designer Lee Croy as a tour guide for an afternoon and evening. Lee will usher you through an unforgettable day of yoga, downtown art/design museums, galleries, shops and design studios; and then an evening out at some of Portland's restaurant, bar and entertainment experiences
CAPTURED! - PHoto Shoot with David Newkirk
David Newkirk has captured moments in peoples lives ever since he picked up a camera nearly a decade ago. You likely know him personally, or know someone he's snapped. Some of whom include Barack Obama, Bill Clinton and Martha Stewart! David has an innate ability to make peoples inner sexy dance to the surface in front of his lens ...and this time it's pointing at you! 2 hour shoot used any which way, but we have some recommendations. See more at DavidNewkirk.com
APOCALYPSE NOW TABLE – PROJECT SUNDAY
You may know Project Sunday as being a custom furniture company, you may not... There's new things afoot for the local Salt Lake Company. Soon to be available on a recently designed website will be unique new designs and insight into their approach on design. Project Sunday has offered the Apocalypse Now table, crafted to last for generations, to give an attendee the takeaway of a lifetime. See the completed piece at Project Sunday's event on Sunday the 27th.
'REBIRTH THE EARTH' PLANTER – ORE INC.
A skyscraper of an object. You could help reboot life on the soon-to-be scorched Earth with this 'Radius Taper' planter/container from Utah's own Ore Inc. The innovative 'Radius Taper' is made from recycled aluminum and powder coated in metallic silver. Stronger than necessary and to endure the most extreme elements of nature. Size is L 20" W 20" H 44", (32 lbs). Planted by Cactus and Tropicals (See actual).
Enjoy timeless design using the most appropriate materials, and superior fabrication techniques. All products are warrantied for years of faithful service. Visit OreContainers.com
The Patchwork GirL 'Fuschia' – ANDREW YANG ONE-OF-A-KIND DOLL
'Fuschia' is a one of a kind, hand made doll with a wire armature. She is made from 5 different types of designer fabrics, including silks and blends from such design houses as Marc Jacobs, Alice + Olivia, and Oscar De La Renta. Her hair is made of a blend of metallic and hand dyed cotton yarns and her face is hand-painted and sealed by the artist.
Andrew Yang is a New York based artist originally from Salt Lake City, Utah. After working for Proenza Schouler and Dennis Basso, his one of a kind fabric fashion dolls were discovered by Anna Wintour and Vogue in 2010, and from there began a career in luxury retail, display & exhibit, that took him around the world to collaborate with Barneys New York, Galeries Lafayette Paris, and Joyce Boutique Hong Kong. The Patchwork Girls are his latest collection of bespoke dolls, made from up-cycled designer fabrics. Visit Andrew-Yang.com
AND...
Opportunity Drawing for a selection of fine liquors and cocktail ingredients (provided by the NOW-ID board and Gala Committee), to come with your own 'mixologist for an evening' provided by WATER WITCH.

A very special thanks to:
 
MODERN ARCHITECTURAL SYSTEMS
SALT LAKE ACTING COMPANY
THE UTAH SYMPHONY
BALLET WEST

BEN MOSLEY & KIM FEARICK
MARCUS MACDONALD
DEBRA ANDERSON
ANDREA BEECHER
ADAM BATEMAN
DAVID NEWKIRK
EVAN FRANCOIS
ANDREW YANG
CREEDE FITCH
LEE CROY

ROBERT SCOTT SMITH
SCOTT HINTON


– THE NOW-ID GALA BOARD
CHRIS PADILLA
RED FROG RESORT
SQUATTERS WASATCH
BEEHIVE DISTILLING
PROJECT SUNDAY
DEV MOUNTAIN
WATER WITCH
VIDA TEQUILA
ICONOCLAD
ORE INC.

HARBOR SEAFOOD & STEAK CO.
CURRENT/UNDERCURRENT
PUBLIK COFFEE
STONEGROUND
NAKED FISH
TAKASHI
FRESCO
BAR-X
PAGO
EVA